Swimming Pool Area
The Chochołowskie Thermal Baths offer plenty of attractions for everyone: geysers, a rushing river, artificial wave, hydromassage stands, as well as a sandy beach and an outdoor water playground in the summer season. Those who favor active recreation can play volleyball and water basketball or enjoy a swim in the sports pool. For thrill seekers we have prepared a waterslide and two pontoon slides. For a moment of relaxation, we invite you to a dry textile sauna or Salt Cave. At Chochołowskie Thermal Baths, customers use special watches allowing to make transactions, which facilitates the use of catering outlets.
Outdoor thermal pools with water attractions
Level 0
638 m²
powierzchnia basenu
1,2 m
głębokość basenu
Attractions
Artificial wave
Water jets
Basketball
Volleyball
---
Level -1
855 m²
powierzchnia basenu
1,25 m
głębokość basenu
Attractions
Wild river
Artificial wave
Water jets
Water bar
Climbing net
Tube slides
3
liczba zjeżdżalni
318m
łączna długość
Slides
Blue pontoon slide, 164 m long.
Green pontoon slide with onion, 80 m long.
Gray slide with trapdoor, 74 m long, for fans of extreme sensations (closed in autumn and winter)
---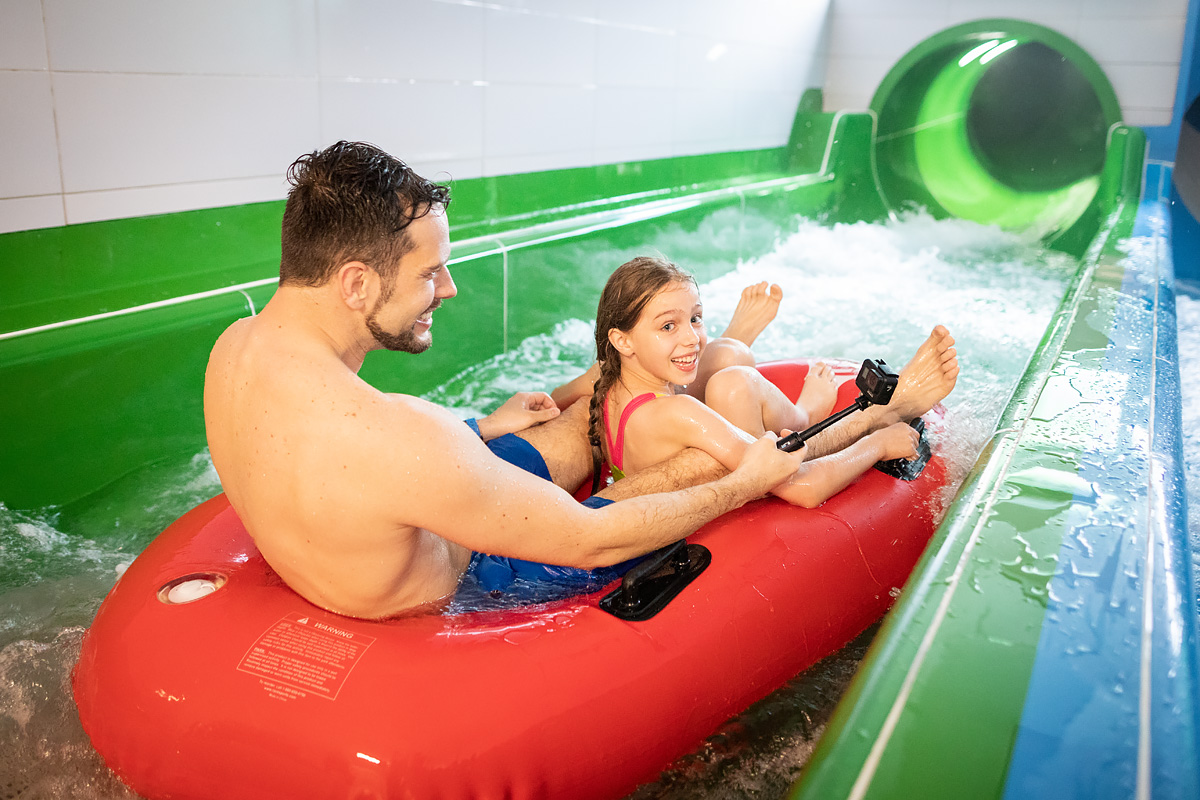 Indoor thermal pools
with massage stands
Two swimming pools with massage stands
99 m²
powierzchnia basenu
głębokość basenu
1,2 m
Seven small Jacuzzi pools
4,9 m²
powierzchnia 6 basenów
1 m
głębokość basenu
16 m²
powierzchnia 1 basenu
1 m
głębokość basenu
Large Jacuzzi pool
79 m²
powierzchnia basenu
1m
głębokość basenu
Brine Jacuzzi
16 m²
powierzchnia jacuzzi
1m
głębokość jacuzzi
For children
Relaxation with a child at Chochołowskie Thermal Baths is all about plenty of fun in thermal pools. We offer a playground in the toddler area, slides, paddling pools and even a children's bathhouse. We make sure that everyone feels comfortable.
Older Children's Zone
a family slide zone inside the building and a steam room for children
---
Aquarium
playroom on level +1 next to the cafe
---
Outdoor playground
with water attractions and the Ship swimming pool (open only in summer – currently closed)
---
Young Children's Zone
indoor playground with a children's pool
35 m²
wymiary basenu
0,3 m
głębokość basenu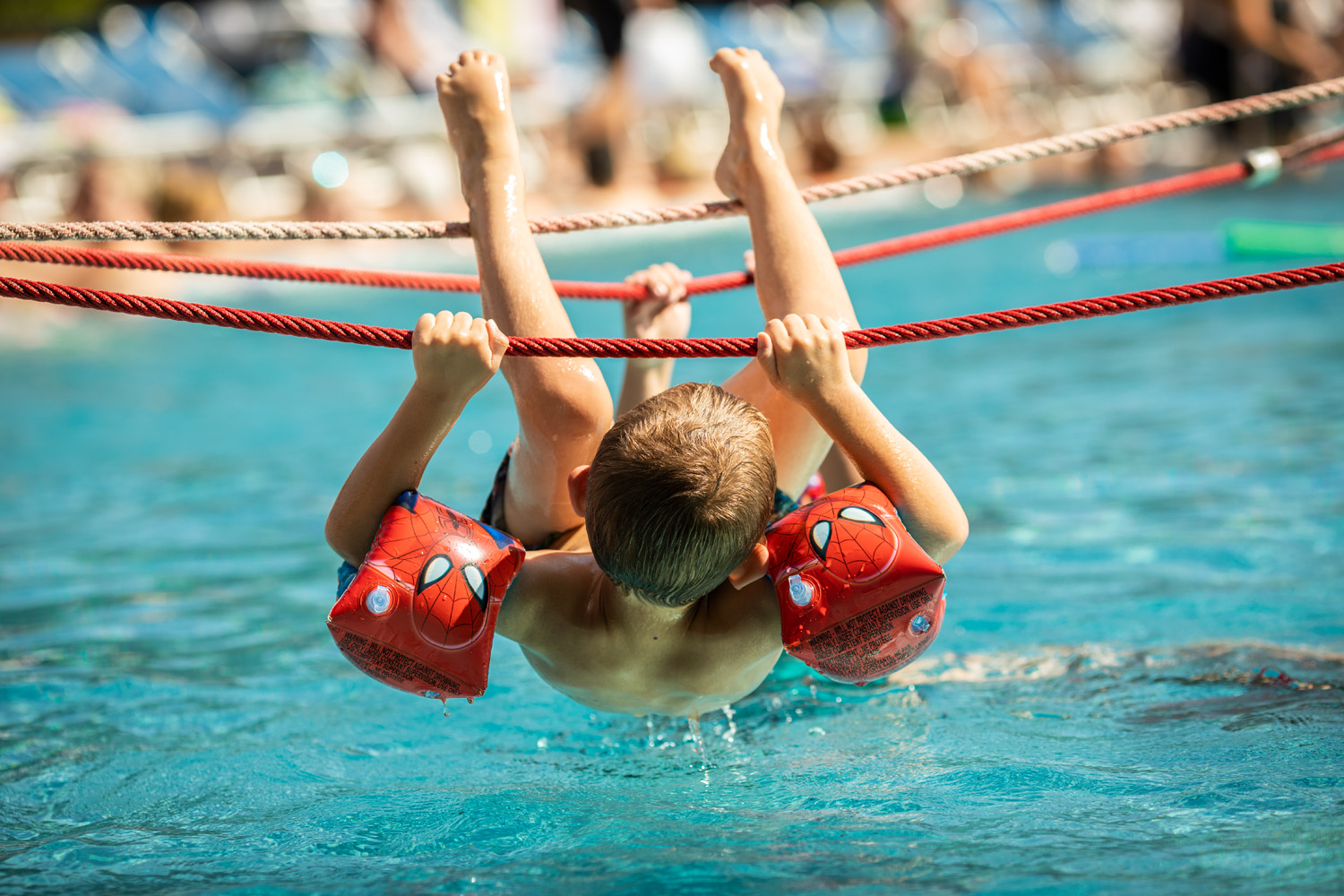 See
our attraction price list
Sports and swimming pools
Level 0
The swimming pool is equipped with an advanced monitoring system POSEIDON which supports the work of rescuers; thanks to cameras installed under water they can monitor the behavior of swimmers – behavior typical of a drowning person activates the alarm.
Poziom -1
The sports pool has been designed for water sports enthusiasts as well as professional athletes. Equipped with 4 tracks, it is perfect for everyone who likes to spend their time actively.
16×8
wymiary basenu
1,3 m
głębokość basenu
25×10
wymiary basenu
1,4 m – 1,8m
głębokość basenu
Additional attractions
Textile sauna and salt cave
at level +2, available to holders of tickets for the pool area.
Sandy beach
with deckchairs by the outdoor pools level -1 (only in the summer season)
Healing zone
Swimming in thermal waters is not just entertainment, but also a benefit to health! Sulfur water and brine iodized water favorably affect the skin, circulatory system and joints, as well as promote the treatment of atherosclerosis, diabetes and rheumatic problems!
That is why we have prepared for our guests:
Thermal barrels with raw, sulfuric thermal water at 36 °C
Thermal pool with iodized brine water at 32 °C
Due to the content of water with a slightly acidic pH (pH 6.7), it softens the epidermis and aids its reconstruction. We call this the keratoplastic effect, which supports, among others treatment of skin diseases such as psoriasis, seborrheic eczema, hyperkeratosis or atopic dermatitis.
Sulphide baths
Ważne informacje
Kąpiele w wodzie siarkowej pobudzają receptory skórne, co może powodować uczucie pieczenia lub swędzenia. Kąpiele siarczkowe wpływają także korzystnie na regeneracje chrząstki stawowej, co w efekcie przyczynia się do leczenia chorób reumatycznych, choroby zwyrodnieniowej stawów, reumatoidalnego zapalenia stawów, dyskopatii i pourazowych schorzeń narządu ruchu. Zabiegi z użyciem wody siarczkowej mają również pozytywny wpływ na układ krążenia ze względu na działanie przeciwmiażdżycowe, chronią przed powikłaniami naczyniowymi w trakcie leczenia cukrzycy
Indications
Degenerative diseases of the joints and spine
Discopathy
Sciatica
Read more
rn
rn t
reumatoidalne zapalenie stawów

rn t

stany pourazowe i przeciążenia narządów ruchu

rn t

przewlekłe choroby skóry

rn t

zaburzenia krążenia obwodowego

rn t

cukrzyca

rn t

dna moczanowa

rn t

miażdżyca

rn t

neuralgia

rn t

choroby ginekologiczne

rn t

łuszczyca

rn
Contraindications
Tuberculosis
Major cardiac failure
Cancers
Read more
rn t
gorączkowe

rn t

duża aktywność procesu zapalnego

rn t

niewydolność krążenia znacznego stopnia

rn t

jaskra z wąskim kątem przesączania

rn t

drastyczny spadek odporności i skłonność do infekcji w okresach dużej zachorowalności

rn
Brine baths
Healing brine bath is an extremely pleasant therapy. Water enriched with minerals has beneficial properties for the skin, bones and internal organs.
It is recommended even to children, especially those prone to respiratory infections. Brine quietens, boost mood and calms.
Saline baths reduce the excitability of sensory and motor receptors, normalize arterial pressure, improves blood circulation, stimulate blood supply to the skin, and also regulate skin metabolism and boost immunity.
Indications
Chronic arthritis
Rheumatoid arthritis
Neuralgia and some forms of peripheral paralysis
Read more
rn
rn t
stwardnienie rozsiane

rn t

stany pourazowe i pooperacyjne narządów ruchu

rn t

nerwice

rn t

bezsenność

rn t

obrzęki

rn t

łuszczyca

rn t

zaburzenia wegetatywne

rn t

przewlekłe zapalenie przydatków

rn t

stany rekonwalescencji po chorobach ginekologicznych

rn t

dolegliwości klimakteryjne

rn t

infekcje górnych dróg oddechowych

rn
Contraindications
Circulatory failure
Developmental disorders of reproductive organs
Previous heart attack
Read more
rn
rn t
wady zastawek

rn t

nadczynność tarczycy

rn t

czynna gruźlica

rn t

zaburzenia rozwojowe narządów rozrodczych

rn t

choroby nowotworowe

rn
Restaurants
There are several catering outlets in the thermal pools, including Bistro Bar, where we offer a tasty bain-marie meal, Pizza Bar serving pizza straight from the oven, Chochołowska Basenowa Restaurant, and in the summer also Grill Bar.
And that's not all. Lovers of sweets and delicious coffee are invited to the Cafe, where ice cream, cakes and desserts prepared on site, according to the original recipes of our confectioners, are available.
Do you want to have a delicious cocktail or drink with a view of the Tatra Mountains without leaving the pool filled to the brim with thermal water? We invite you to level -1, where our Water Bar serves not only alcoholic beverages directly into the pool.

Sport Shop
Forgot your swimsuit? There is only one flap in the bag and the towel was left at home? Nothing terrible, the wide range of the Sports Store will certainly save the situation. The offer includes, among others: swimsuits, swimming accessories for children and adults.
There are two sports shops on the premises, one located right next to the ticket offices and the other in the swimming pool area.
Did you know that. . .?
wodę czerpiemy z najzasobniejszego źródła w regionie – z odwiertu PIG 1 wykonanego w latach 1989-1990, gdzie temperatura wody wynosi ok. 82°C ?
woda wydobywana z głębokości prawie 3600 m, bogatych jest w mikroskładniki takie jak siarka, wapń, magnez czy sód ?
łączna powierzchnia lustra wody niecek basenowych w Chochołowskich Termach wynosi ponad 3000 m² ?
kropelka wody zanim trafi z wnętrza Ziemi do niecki basenowej pokonuje około 4 kilometry ?
baseny zewnętrze mają łącznie powierzchnię 1493 metry kwadratowe ?
na parkingu tuż obok budynku Chochołowskich Term znajdują się dwie stacje ładowania samochodów elekrtycznych ?
wewnątrz strefy basenowej znajdują się dwa place zabaw dla dzieci ze zjeżdżalniami, łaźnią parową oraz brodzikami z wodnymi atrakcjami ?