Swimming Pool Area
The Chochołowskie Thermal Baths offer plenty of attractions for everyone: geysers, a rushing river, artificial wave, hydromassage stands, as well as a sandy beach and an outdoor water playground in the summer season. Those who favor active recreation can play volleyball and water basketball or enjoy a swim in the sports pool. For thrill seekers we have prepared a waterslide and two pontoon slides. For a moment of relaxation, we invite you to a dry textile sauna or Salt Cave. At Chochołowskie Thermal Baths, customers use special watches allowing to make transactions, which facilitates the use of catering outlets.
Outdoor thermal pools with water attractions
Level 0
638 m²
pool area
1,2 m
pool depth
Attractions
Artificial wave
Water jets
Basketball
Volleyball
---
Level -1
855 m²
pool area
1,25 m
pool depth
Attractions
Wild river
Artificial wave
Water jets
Water bar
Climbing net
Tube slides
3
number of slides
318m
total length
Slides
Blue pontoon slide, 164 m long.
Green pontoon slide with onion, 80 m long.
Gray slide with trapdoor, 74 m long, for fans of extreme sensations (closed in autumn and winter)
---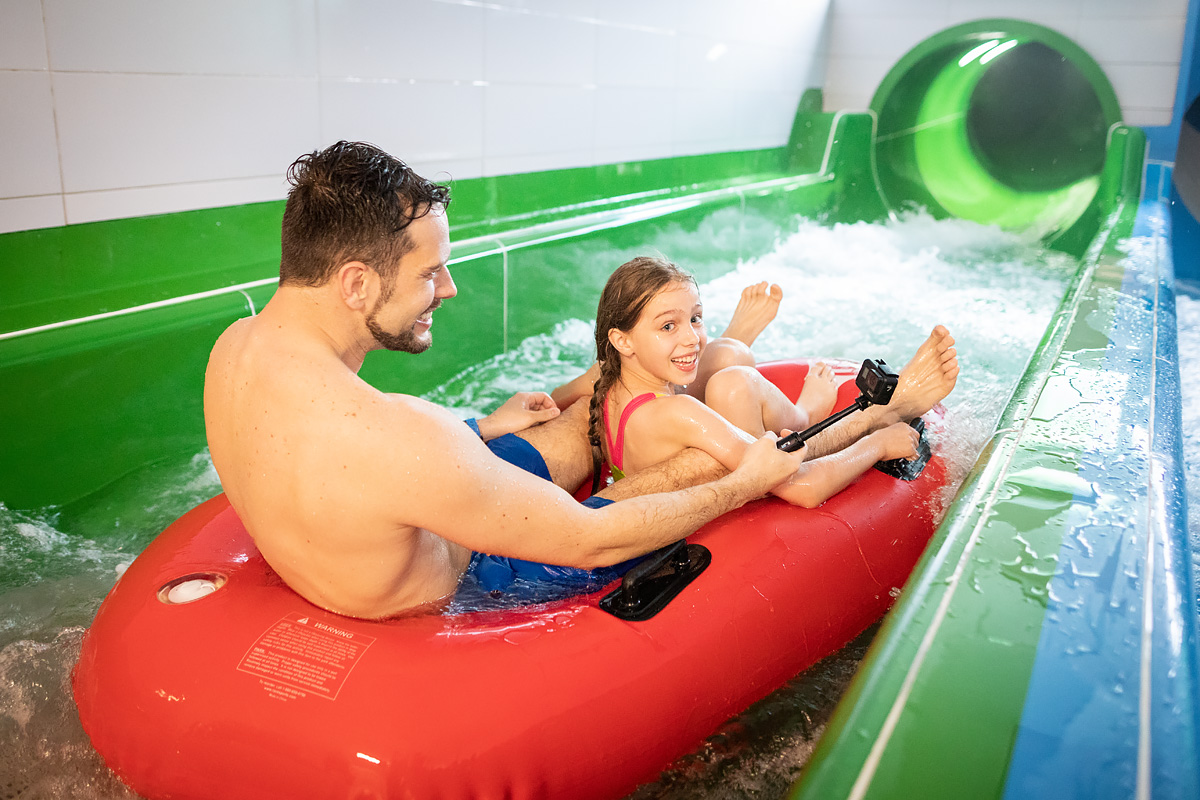 Indoor thermal pools
with massage stands
Two swimming pools with massage stands
99 m²
pool area
pool depth
1,2 m
Seven small Jacuzzi pools
4,9 m²
area of 6 pools
1 m
pool depth
16 m²
area of 1 pool
1 m
pool depth
Large Jacuzzi pool
79 m²
pool area
1m
pool depth
Brine Jacuzzi
16 m²
Jacuzzi area
1m
Jacuzzi depth
For children
Relaxation with a child at Chochołowskie Thermal Baths is all about plenty of fun in thermal pools. We offer a playground in the toddler area, slides, paddling pools and even a children's bathhouse. We make sure that everyone feels comfortable.
Older Children's Zone
a family slide zone inside the building and a steam room for children
---
Aquarium
playroom on level +1 next to the cafe
---
Outdoor playground
with water attractions and the Ship swimming pool (open only in summer – currently closed)
---
Young Children's Zone
indoor playground with a children's pool
35 m²
pool dimensions
0,3 m
pool depth
See
our attraction price list
Sports and swimming pools
Level 0
The swimming pool is equipped with an advanced monitoring system POSEIDON which supports the work of rescuers; thanks to cameras installed under water they can monitor the behavior of swimmers – behavior typical of a drowning person activates the alarm.
Level -1
The sports pool has been designed for water sports enthusiasts as well as professional athletes. Equipped with 4 tracks, it is perfect for everyone who likes to spend their time actively.
16×8
pool dimensions
1,3 m
pool depth
25×10
pool dimensions
1,4 m – 1,8m
pool depth
Additional attractions
Textile sauna and salt cave
at level +2, available to holders of tickets for the pool area.
Sandy beach
with deckchairs by the outdoor pools level -1 (only in the summer season)
Sport Shop
For the slightly forgetful swimmers, we have a special offer of swimwear and swimming accessories for adults and children in the sports shop in Chochołowskie Thermal Baths. The store is located near the cash desks.
There is a Bistro Bar in the thermal pools, where we offer a tasty bain-maries meal. There are bars by the outdoor pools where we serve refreshing drinks. We also invite you for a pizza straight from the oven. Our coffee shop also offers sweet coffee desserts in the thermal pool area.
Healing zone
Swimming in thermal waters is not just entertainment, but also a benefit to health! Sulfur water and brine iodized water favorably affect the skin, circulatory system and joints, as well as promote the treatment of atherosclerosis, diabetes and rheumatic problems!
That is why we have prepared for our guests:
Thermal barrels with raw, sulfuric thermal water at 36 °C
Thermal pool with iodized brine water at 32 °C
Due to the content of water with a slightly acidic pH (pH 6.7), it softens the epidermis and aids its reconstruction. We call this the keratoplastic effect, which supports, among others treatment of skin diseases such as psoriasis, seborrheic eczema, hyperkeratosis or atopic dermatitis.
Sulphide baths
Ważne informacje
Kąpiele w wodzie siarkowej pobudzają receptory skórne, co może powodować uczucie pieczenia lub swędzenia. Kąpiele siarczkowe wpływają także korzystnie na regeneracje chrząstki stawowej, co w efekcie przyczynia się do leczenia chorób reumatycznych, choroby zwyrodnieniowej stawów, reumatoidalnego zapalenia stawów, dyskopatii i pourazowych schorzeń narządu ruchu. Zabiegi z użyciem wody siarczkowej mają również pozytywny wpływ na układ krążenia ze względu na działanie przeciwmiażdżycowe, chronią przed powikłaniami naczyniowymi w trakcie leczenia cukrzycy
Indications
Degenerative diseases of the joints and spine
Discopathy
Sciatica
Read more
rheumatoid arthritis
post-traumatic conditions and
overloading of locomotory organs
chronic skin diseases
peripheral circulatory disorders
diabetes
gout
atherosclerosis
neuralgia
gynecological diseases
psoriasis
Contraindications
Tuberculosis
Major cardiac failure
Cancers
Read more
febrile
high activity of the inflammatory process
severe circulatory failure
narrow-angle glaucoma
drastic decrease in immunity and
susceptibility to infection during periods of
high morbidity
Brine baths
Healing brine bath is an extremely pleasant therapy. Water enriched with minerals has beneficial properties for the skin, bones and internal organs.
It is recommended even to children, especially those prone to respiratory infections. Brine quietens, boost mood and calms.
Saline baths reduce the excitability of sensory and motor receptors, normalize arterial pressure, improves blood circulation, stimulate blood supply to the skin, and also regulate skin metabolism and boost immunity.
Indications
Chronic arthritis
Rheumatoid arthritis
Neuralgia and some forms of peripheral paralysis
Read more
multiple sclerosis
post-traumatic and postoperative conditions of locomotory organs
neuroses
insomnia
swelling
psoriasis
vegetative disorders
chronic adnexitis
states of convalescence after gynecological diseases
climacteric discomfort
upper respiratory tract infections
Contraindications
Circulatory failure
Developmental disorders of reproductive organs
Previous heart attack
Read more
valve defects
hyperthyroidism
active tuberculosis
developmental disorders of reproductive organs
cancers
Did you know that. . .?
we draw water from the richest source in the region – the PIG 1 well made in 1989-1990, where the water temperature is approx. 82°C?
water extracted from a depth of almost 3600 m is rich in micronutrients such as sulfur, calcium, magnesium and sodium?
the total water surface of the pool troughs in Chochołowskie Thermal Baths is over 3000 m²?
a drop of water covers about 4 kilometers before it reaches the inside of the pool trough?
outdoor pools have a total area of 1493 square meters?
there are two Tesla charging stations in the parking lot next to the Chochołowskie Thermal Baths building? One of them is dedicated to charging Tesla cars (charging station up to 22 kW), and the other is a Type 2 electric car charger.
there are two playgrounds for children with slides, a steam bath and paddling pools with water attractions inside the pool area?